Aircraft Database Details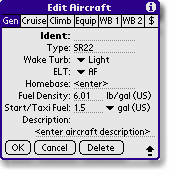 To provide more more help in creating an aircraft database, there is a very detailed description of how to create an aircraft database from the information in the Pilot's Operating Handbook for a Cirrus SR22.
Custom Aircraft Databases
Would you like to make your aircraft database available for others to download? It is a bit tricky, but I have provided detailed instructions here regarding how to do it. For example, you could make a custom database with the entire fleet of your flight school. Users could download it from the school's website, and the fleet would be added to their existing aircraft database.
Aircraft Downloads
The following aircraft are available for download. Once the file is HotSync'ed to your Palm device, the aircraft will be added to your aircraft database. You must be using at least version 4.5 of CoPilot in order to make use of these downloads. You will still need to make some final changes to the data. In particular:
Gen form - enter the aircraft ident
Gen form - select the ELT type (usually AF)

A (Automatic ejectable)
AD (Automatic Deployable)
F (Fixed)
AF (Automatic Fixed)
AP (Automatic Portable)
P (Personnel)
W (Water activated)
S (Survival)

Gen form - enter the homebase
Gen form - enter the aircraft description
Equip form - select the avionics that are equipped
WB 1 form - update the basic empty weight based on the actual aircraft weight
Install the database like you would install an application - double click on the file and then perform a HotSync.
Contributions are welcome. If you have created an aircraft database that you would be willing to share, please submit it, and it will be added to the list.